What does art do? While academic claims differ greatly, they agree that it does something – it moves, translates, mediates, sells well, is labelled and discussed widely. However, the ways art and society are intertwined in these unsettling and uncertain times need to be discussed and (re-)negotiated. The online 'ESA-Arts 11th midterm conference - THE SOCIAL EFFECTS OF ART' in March 2021 provided a platform to elaborate on sociological approaches in arts research and the relevance of art practice for academia.
The event
The ESA Research Network, Sociology of the Arts and the University of Arts Helsinki managed to organize a varied program with a mix of practice- and research-based contributions. Keynotes by Laura Beloff, Stephen Duncombe, Steve Lambert and Eduardo de la Fuente, as well as panel discussions with researchers and cultural organizations framed the event and provided a basis for further debates. These triggered new thoughts and critical discussions, while providing ground to reflect on the art academy itself.
A strong link between arts research and practice
The social effects of art were considered from different interdisciplinary perspectives, such as the fields of law, anthropology, social sciences and geography. Many contributions were informed by art practice and foregrounded curatorial experience as an essential part of methodological choices. In this way, the conference created a strong link between art as a research discipline and art practice. This tendency towards a practice-oriented arts research was reflected in presentations on topics such as art mediation, curating or social engagement through art. These reflections do not cover the full, extensive programme but show how participating researchers questioned the scope of their discipline and presented new perspectives to re-think the relation between art and society.
The tendency towards a 'pragmatic' and practice-oriented perspective
The conference title 'The Social Effects of Art' already indicates its tendency towards a practice-oriented perspective that highlights art as action facilitating re-action. Presented research and cross-disciplinary (artistic) projects drew on a great variety of examples from art production to reflect upon the ways art is perceived, and upon how knowledge about art is (co-)created in a mutual dialogue with artists and decision makers in the arts. Although the term 'pragmatic,' when used in relation to the sociology of art, links to the work of Boltanski and Thévenot (1991), it is used in these reflections to describe the overall tendency of this conference towards action-based or situational approaches. The following selected presentations reflected this 'pragmatic' tendency.
Anna Jensen drew on her curatorial experience in the research-project that she presented under the title 'Global art in a local context,' during the session 'Presentation and mediation of contemporary art'. She introduced the concept of 'new locality,' as part of research on contemporary arts in rural areas. Over the past years, she has collaborated with artists and audiences to find out about relations between the local and its inhabitants. She argued that although there are efforts to make the 'periphery' more visible, contemporary art events, like the Oslo Biennial, seem to involve 'locals' insufficiently. However, by focussing on a dialogue, gathering data from her own curatorial projects, she gave examples of how knowledge about contemporary art can be co-produced.
Laura Beloff, a keynote speaker, offered a different understanding of social engagement related to art. She promoted a wider definition of the social by including non-human dimensions, such as technology or other organisms like fungi, bacteria and larger animals. As an art practitioner and researcher she presented some of her artworks, for example 'The Fruit Fly Farm', with which she examined and re-thought the relation between art and the environment. Beloff emphasized that such works, which can be labelled as 'bio-art' or 'environmental art', can mediate important contemporary topics, as they consider ecological issues but are directed towards a human audience. In this way, she created an important link between the idea of 'socially-engaged art' and 'environmental art,' that are often considered as separate subjects in art analysis. The former is often considered as an inclusive form of creative work that deals with inequality, politics and 'values' while the latter seems to be categorized more generally as 'art & science'. However, looking at the interplay between biology and aesthetics helps to question how discourse about 'socially-engaged art' is legitimized and by whom.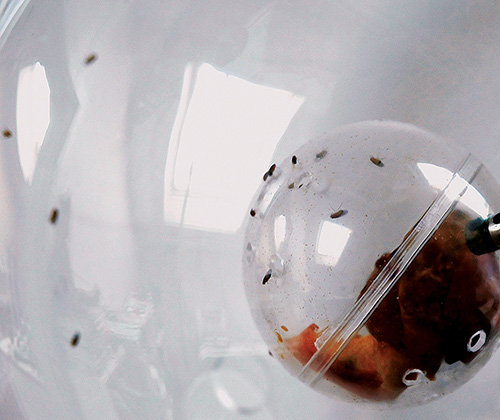 Karen van den Berg emphasized that in contemporary art debates there seems to be a strong focus on the institutional and economic contexts of art production, which sometimes overshadow the 'aesthetic surplus' of an artwork. As an example, Karen van den Berg referred to the debate triggered by the exhibiting of a painting by Dana Schutz at the renowned Whitney Biennial in 2017. She described how discussion of the work focused solely on the fact that Schutz, as a white American, had depicted an African American boy, tortured and murdered for flirting with a white girl. In this context van den Berg observed a shift towards an 'art critique' that does not focus on the artwork itself by elaborating on aesthetical issues, such as how an artwork visually 'translates' experiences or how it work fits within the oeuvre of the painter and so on, but on the circumstances in which it was produced and its actors. While such critical debates can be important, they become problematic if they become 'all too certain' and not well-researched. Even though her research, does not draw on practical curatorial or artistic experience like Beloff or Jensen, it is 'pragmatic' as it relates to particular situations in the arts and describes, as well as interprets, art in the context of material and cognitive conditions that drive (re-)actions in the cultural domain.
The final keynote speakers Steve Lambert and Stephen Duncombe picked up the same example from Whitney Biennial to show how misguiding media perception can be, and further emphasize that it is necessary to foreground the potential for artworks to facilitate social justice. Moreover, they underlined, in the final panel discussion, the importance of asking questions beyond one's own training, as a researcher. Arguing that only co-produced knowledge can suffice to address the relation between social science and arts. In the perspective of van den Berg, Lambert and Duncombe, art does something, but the way we talk about the impact of art on society should be re-evaluated, and standards of judgment reconsidered. A sociology of art, as presented during the conference, recognizes the importance of 'pragmatic' approaches as they lend relevance to practice-led research. The single contributions that have been outlined above are good examples of studies that focus on the artworks themselves and the importance of co-created knowledge.
'Pragmatic' perspectives underline the potential of art
Art practice, as a form of free experimentation, encourages thinking beyond standards. This is not only valid on the level of individuals, where processes related to art production, as well as reception, can train cognitive flexibility, but also in a wider social context. 'Pragmatic' perspectives presented at the conference seem to agree that art is  "[…] a necessary corrective against the doctrine of an administrative regime and its self-contradictions"  (van den Berg, 2021, p. 23). Art practice as a key aspect of the conference, in the form of performative contributions or as a focus of conference papers allowed the development of self-reflective perspectives and highlighted problematic issues of art production. Still, within the context of this event, the elitist character of the discipline was not sufficiently addressed, as the participants where predominantly white and European – in gallery view on zoom this fact became particularly obvious. However, the organizers underlined from how many different nations the conference papers originated, pointing at interesting projects located in South America or Asia. In summary, the conference attempted to create a diverse environment and provided the framework to experiment and explore new forms of presenting arts research. Speakers and art practitioners reassembled a toolbox for a sociology of art and critically elaborated on how its tools are used and by whom. Indeed, the social effects of art should be used as a reference to address issues of legitimisation; in fact, this is an aspect, shared by most participants and speakers who seemed to agree that the potential of art in a social context is undisputable.
Quick note on the online format
Apart from well-researched contributions, limited time was certainly one feature of the whole conference, as seems to be the case for many online academic formats these days. A great number of speakers were rushing through their slides to get 'as much across as possible' instead of focusing on the most important aspects of their research. This created the risk of presenting definitions and typologies in a deterministic fashion. However, since presenters had been given no more than fifteen minutes, there was often no time to elaborate further on definitions and models. Although on-site conferences equally have a tight schedule, an online format does not encourage to meet and discuss in-between or immediately after a day of online meetings.
References
van den Berg, K. (2019) 'Socially Engaged Art and Fall of the Spectator since Joseph Beuys and the Situationists'. in: van den Berg, Jordan & Kleinmichel (eds.) The Art of Direct Action. Social Sculpture and beyond. Berlin, Sternberg Press, pp 1-10
Boltanski, L. (2006). On justification : economies of worth. Princeton, Princeton University Press.
Biography
Verena Niepel is a doctoral candidate at Newcastle University. As a Northern Bridge DTP / AHRC funded PhD student she is working on her dissertation that aims at understanding the relations between art networks in Berlin and artists from Turkey, who exhibited and worked in the German capital during the last decade.